Over a thousand people marched through Huercal Overa today to demand that our local hospital reopens its closed wards and surgeries, and another one is planned, even bigger, next Tuesday 14th, at 6pm.
CSIF, the public sector union behind the march, blames the management of La Inmaculada hospital for "inefficiency and bad management leading to beds being closed, staff laid off and surgeries being closed for short term economic reasons".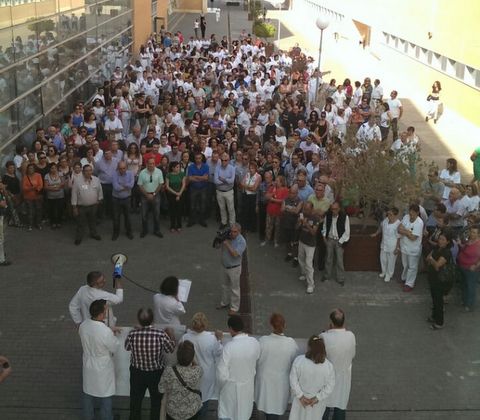 They also blamed the local Department of Health of being complicit in a "scam" to fool local residents, after the DoH issued a press release saying that surgeries weren't being closed, but were running at full capacity.
The scam, according to doctors, is that a number of beds are being closed – up to 30 at any one time- which in turn reduces the capacity of the surgeries. This means that the hospital can claim the surgeries are running at full operation – because "full operation" has been artificially redefined downwards.
"The hospital has been crippled, and the capacity reduced, but the management can say [with a straight face] that it's running as per capacity" explained a spokesman to the press.
This in turn means that people on waiting lists are being sent to Almeria or El Ejido hospitals, with operations being reserved mainly for A&E patients, but leaving local residents with a drive of over an hour for treatment.
CSIF also revealed that over 20 staff at the hospital have lost their jobs because of the bed closure.
Meanwhile, the regional PSOE party blamed the mayor of Huercal Overa of "scaremongering" over the issue for short term political gain, and says that the situation is being "stage managed" by the local PP party.
Staff at the hospital were this afternoon complaining to their unions that they have been banned from taking part in next Tuesdays march and warned that participation would be considered to be unauthorised industrial action.