A quietly released report says that breeding programmes have successfully re-introduced wolves into Spain, with over 2,000 wolves roaming the centre of the country.
There are about 250 packs being tracked by biologists, with one pack just outside Madrid, some 40 miles up into the hills.
"As wolf numbers grow so does the number of attacks on animals. From 2005 there were about 1,500 attacks a year. Then in 2008 it jumped to over 2,000," says Luis Suárez, WWF biodiversity officer in Madrid. "In the past seven years 13,000 sheep, 200 goats and several hundred cows have been attacked across Spain."
Some conservationists say the economic recession in Spain, Portugal, Greece and elsewhere has also helped them spread into new areas. "People have migrated from rural areas, allowing the wolf to reoccupy abandoned land. The recession has left less money for farmers to protect their animals, says Suárez. "More money in the economy means more money for protection. Worse circumstances in the recession have seen a progression of rural people to the cities and an increase in wolf numbers," he says.
Wolves are a protected species and most countries offer to compensate farmers for the animals they kill. But many are now being hunted illegally and poisoned. Officially, 130 wolves have been killed [since 2005] in Spain, but the real numbers are unknown.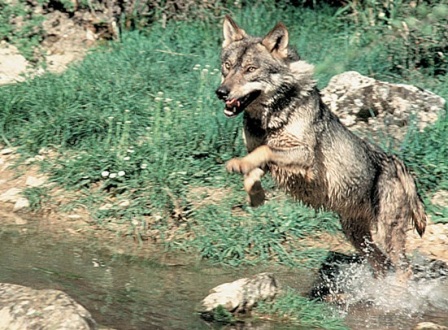 Most of the packs are up on the desolate mountain ranges beneath the North coast, or around the central mesetas, but there are a number of packs in the natural parks around Córdoba, which are the closest ones to Almería. See a map from RTVE here.
María Vázquez, who works with farm advice group Asaja in Aviola, helping farmers with electric fences and dogs, says: "We're not against wolves, but we need help. The number of attacks on livestock is growing."
As their populations grow, the wolves' best friends may be tourists flocking to Guadarrama and other conservation zones. The animals' presence just a few miles from city centres is proving popular with politicians and a draw to city residents. Visitor numbers to Guadarrama and other wild areas in Europe where wolves have moved in are growing fast, and governments are mostly happy to invest in modest protection measures in return for being hailed as friends of the environment.
"Their return to Guadarrama is a good thing, but for people with animals it's trouble. We are willing to pay subsidies," says Spain's environment secretary, Federico Ramos. "We have to understand that ideas about the wolf are changing. In the past they were a serious problem, but now people are sympathetic. It's not the devil; it's just an animal. We must learn to live together."
Spain paid a bounty per wolf head until the early 1970's. A campaign by naturalist Felix Rodriguez de la Fuente in the 70's, who made Spains first TV nature documentaries, was the first step in changing the attitude towards these animals.