The Supreme Court of Andalucía has ruled on the amount of compensation to be given to the builders of the controversial Algarrobico hotel in Carboneras in exchange for the land it's on. This will, in theory, allow demolition of the hotel to start soon.
The court ruled that the offer by the Junta de Andalucía to expropriate the land the hotel was built on (2.313.896,61 euros) was a fair market value for the land, and reflected the cost to the builders when they purchased the land originally in 1999. This should be the only compensation the builders of the hotel are entitled to.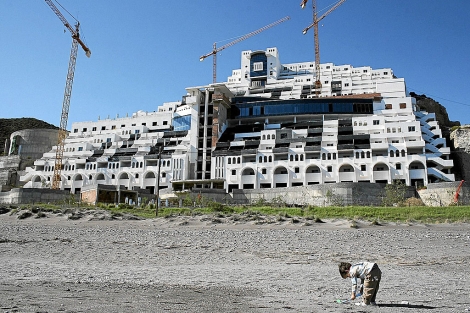 Azata del Sol, the company behind the hotel, had asked for 70 million euros compensation, arguing that this was the true cost of the land. Their appeal had been backed by the town of Carboneras, which wanted the hotel to go ahead.
No appeal can be made (unless to Europe? In which case the Constitutional will still have to decide whether to stop the process, if Brussels accepts the case).
The Junta's argument so far for not demolishing the hotel -despite having the courts rule in favour of demolition- was that it couldn't, for a myriad of legal reasons. However, I believe the ruling means they can now expropriate the land the hotel is on, and since it's an illegal building with a supreme court judgement saying it has to be knocked down and the land restored to its former state, demolition can start once the expropriation is finalised.
The sentence also ordered the Almeria delegation of the regional Environmental Ministry to start drawing up the paperwork to start the expropriation.
The ruling also said that the townhall's allegations of legality were flawed, and that the Junta's primary purpose should be to protect the natural values of the protected land of Cabo de Gata natural park. The townhall had argued that the Junta, having in the past permitted the construction of the hotel, should not now oppose the opening of it. The administration of Carboneras has been in hot water over the hotel, as the previous mayor backed it to the hilt, and is now being investigated to see just why he was so cosy with the builders… ah hem.