There was a desperate and emergency press meeting last night in Madrid just a couple of hours after Argentina stunned London by announcing that Spain and Argentine had signed an agreement to jointly force the UK's hand over Gib & the Falkland Islands.
"No such agreement or alliance exists" insisted the Spanish Deputy Foreign Minister, Marisa Cruz. "There has been a misunderstanding".
It seems that the FO for Spain, the somewhat doddery José Manuel García-Margallo and his Argie counterpart  Héctor Timerman had a meeting yesterday at the UN in New York where they discussed such matters as the British colonial expansion. I would imagine that after a couple of sherries José, who never seems to be sure which room he's in or which King is on the throne, probably agreed lustily with old Hector (wonder where his grandparents were from, with that name?) and decided that the Anglos were altogether too uppity and needed a damn good seeing to.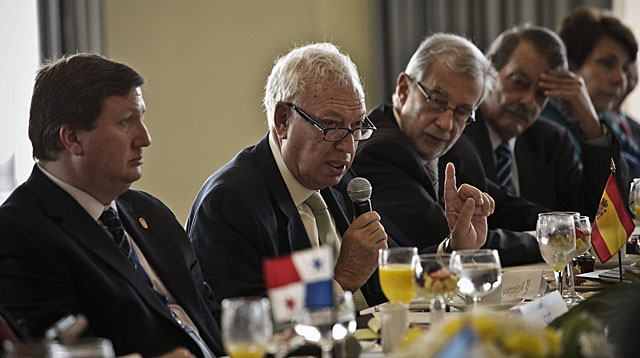 This meeting was followed by a triumphant note from Buenos Aires in which Cristina crowed that the two nations were as one in the face of adversity. Ignoring the fact that she's been stealing Spanish assets in her country, by nationalising a lot of Iberian companies over there, which hasn't gone down too well in Madrid. No doubt the President of YPF-Repsol was on the phone to Mariano within minutes.
Marisa Cruz insists that the UK is a "great friend and ally" of Spain and that no such agreement has been made with the Argentines.
Now that the summer is over, there's no point in Madrid stroking the Gib fires any longer – the whole thing was only a smokescreen for the Spanish press over the holidays to stop them concentrating on the corruption issues facing all the main parties. A tactic which served wonderfully. Expect it to blow up again at Christmas, Easter and the National Day. Mariano mentioned it yesterday at the UN, as was expected, but nobody is really interested anymore.
More via El Mundo.