Despite it being summer, 10 Spanish public airports served fewer than 1,000 passengers last month, according to El Economista newspaper, which asks why these expensive, loss making airports aren't closed.
Huesca-Pirineos is the worst performing airport in Spain, having lost 97,83% of its air traffic since last year. In July, it received just 9 passengers. It was built in 2011 at a cost of 60 million euros and was expected to serve 160,000 passengers a year. It has been criticised by workers and air traffic controllers for being rather badly designed, and causing several accidents since it opened.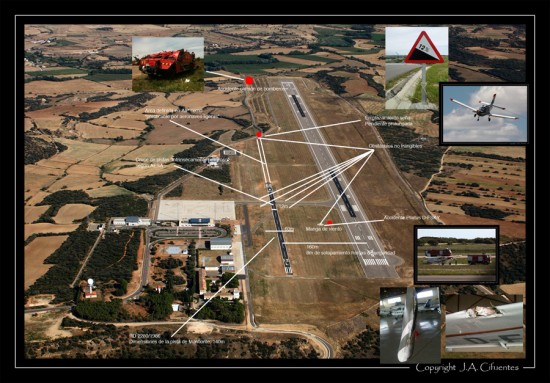 Albacete airport isn't much better, it got just 34 passengers, a drop of 95.2%.
Madrid-Cuatro Vientos got 245 passengers, which is actually an increase of 66.67% over last year. Vitoria airport dropped from 731 passengers in 2012 to just 277 this year.
Madrid-Torrejón airport was abruptly closed to civilian flights this Feb by order of the government, which transferred the 2,500 odd passengers it received monthly to Barajas.
Sabadell aerodrome and Son Bonet aerodrome, both of which were recently acquired by AENA, received just 280 and 454 passengers each. Sabadell airport, in private hands last year, has no figures for 2012. Son Bonet (in Mallorca), however, received just 1 passenger in 2012, so that's a 454% increase since it went into public hands.
Cordoba airport received 669 passengers (down 4.97% over 2012 figures), Logroño got 745, a 64,11% drop. Algeciras heliport, opened in the middle of the recession to much criticism, had 846 passengers, 1270% up on last July's figures (just 3 people).
Other public airports across the country have seen huge drops in passenger numbers. Valladolid airport has lost 35.21% of its traffic (it saw just 24.521 passengers last month); Badajoz has lost 52%, receiving just 4.083 passengers in July.
Spain is the EU country with the greatest number of operating public airports. It's population of 46,5 million are serviced by 48 publicly owned and operated airports. The country has spent billions building airports that are on top of each other – Cordoba airport, for example, with just 669 passengers is 130km from the massive Malaga airport, which last month received over 1,5 million passengers. These smaller airports, despite being built to accommodate international flights, just can't compete with their larger brothers.
Sabadell (280 passengers) is under 100km away from Barcelona's international El Prat (over 3,8 million passengers). Son Bonet (454 passengers in July) is just round the corner from Mallorca International (3.4 million passengers in July).
And Huesca-Pirineos, built for 60 million euros in 2011 with capacity for 160.000 passengers a year, last year received only 2.781 passengers.
All of which doesn't look good for Corvera airport in Murcia – built by the regional government at a cost of hundreds of millions- and which is just 35km from the San Javier airport, into which AENA has poured almost 50 million euros into renovation works over the last couple of years.
More from ElEconomista.es