There are now 6,202,700 people actively seeking a job in Spain, according to the latest employment figures published the State Statistics Agency INE.
That's 27.16% of the working population. The figures speak for themselves.
El Mundo helpfully points out that if everyone of the Spanish unemployed stood in a line holding hands, they would reach from Cordoba to Moscow: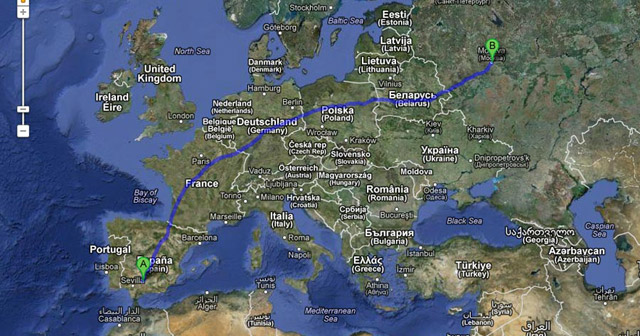 Meanwhile, the economic recession continues to bite in Spain – the working population dropped by 235.300 people last year, which is assumed to be people who have left the country to look for work elsewhere, and the overall population of Spain is shrinking as both natives and immigrants leave to go to the rest of Europe. The brain drain is really starting to affect the economy.
And the crisis is now really starting to bite at the industrial heartland of Spain, with the collapse of major national companies in sectors not previously affected, such as the food industry (ie Pescanova).
Other points of interest from the study:
Unemployment amongst immigrants, according to the same survey, stands at 39.21%.
There are now 1.9 million households with not one member in work (almost 200,000 more than this time last year).
Almost 800,000 jobs have been destroyed in Spain over the last year.
Tomorrow (Friday) the government will  be announcing another series of "major" financial and employment reforms, but is refusing to state what they will be. Pensions for sure, with the age of retirement probably going up again; IVA and income tax probably won't be touched. Employment law is expected to be revised again. Meanwhile, Spain sinks even further into the abyss.