Spain's Princess Cristina has been summoned to appear in court over allegations that her husband misused millions of euros of public money.
It is reported to be the first court summons for a direct descendant of the Spanish king. She is King Juan Carlos's youngest daughter.
Her husband, Inaki Urdangarin, denies wrongdoing and has not been charged.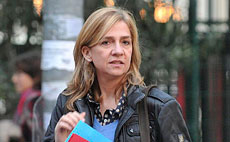 He is suspected of having massively overcharged local authorities for organising sporting events.
Princess Cristina has been asked to appear in court in Palma de Mallorca, in the Balearic Islands, on 27 April.
Emails have come to light suggesting that the princess knew about her husband's financial affairs, Spain's El Pais newspaper reported.
Inaki Urdangarin, the Duke of Palma, is a 45-year-old former Olympic handball player.
He was suspended from official royal engagements in December.
The duke and his former business partner Diego Torres are suspected of siphoning off money given by regional governments to the Noos Institute to organise sporting events.
It is alleged that some of the money ended up in companies controlled by the duke and in offshore bank accounts.
(Via the BBC)