German aristocrat Corinna Sayn-Wittgenstein has been named as a corrupt benefactors of public cash, pinched by and channeled via the son-in-law of the King of Spain, Iñaki Urdangarin.
Corinna, who has been linked romantically to the King of Spain, is a "very old friend" of his and, in fact, was his personal guest on the infamous elephant shoot he went on in Botswana earlier this year. The elegant 47 year old caused a stir in her native Germany after she shared a red carpet & military honours with King J.C. when he officially visited Germany in 2006. German tabloids claim she has accompanied King J.C. on dozens of official trips (all paid for by the Spanish taxpayer) and even more personal trips.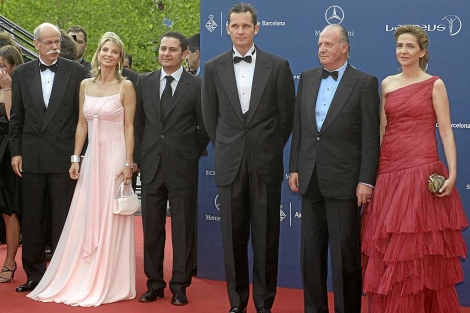 Iñaki, a beach volleyball world champion who married the King's daughter, is on trial for alledgedly channeled millions of euros in public money from the Balearic Isle and Valencia into his own pockets via false invoices, signed off by crooked politicians, using his Royal connections.
José Castro, Iñaki's ex-business partner turned State Witness, has handed public prosecutors a "goldmine" of emails and letters, which implicates Corinna (amongst many others). She is alledged to have allowed Inaki to put her name forwards onto several false conferences to which she knew she wouldn't have to do anything for, in exchange for some large invoices being paid quickly.
Supporters of the King say that José Castro is simply trying to blackmail the King of Spain with gossip and false emails.
The King is believed to have cancelled an official trip to the World Future Energy Summit in order to deal with the crisis caused by the Corinna scandal, a blow to Rajoy, who wanted him there to help balance Spain against the arrival of the President of France.
Corinna got into a fight back in September with the New York Times after they described her as the King's mistress. She says she is simply "the Spanish Governments strategic assesor", whatever that means. Abu Dhabi, when there WFES is being held, knows her well, as she has accompanied the King several times and even been introduced, along with JuanCar, to the rulers of the place.