The current townhall of Garrucha (PP) has discovered that the previous administration bought 200 litter bins at 900€ a piece – when the usual list price is around 80€.
"If you really go for it", said an expert consulted by elmundo.es, "you might get some special ones made up which would cost you, tops, 500€ a bin".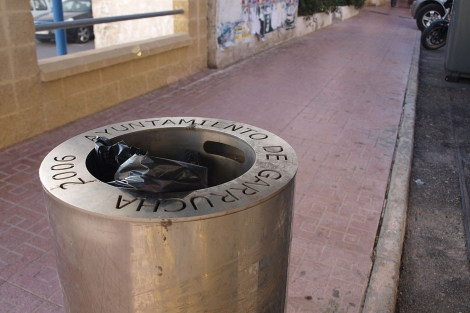 Some good news – the 179,000€ bill was never settled as the PSOE were kicked out in the last elections. The townhall came across the invoice in the unpaid folder when they were tidying up the place and thought it strange that the company never bothered to chase up the bill – the townhall has no record of the company asking for payment, nor has the compay asked for the invoice to be included into the recently announced settlement of unpaid bills by the central government.
Mayor Juan Francisco, recently denounced by the PSOE for sending all townhall vehicles to be serviced exclusively by his brother, seems triumphant by the discovery, and said that when he asked the previous administration about this they denied all knowledge. "Very suspicious" he said.