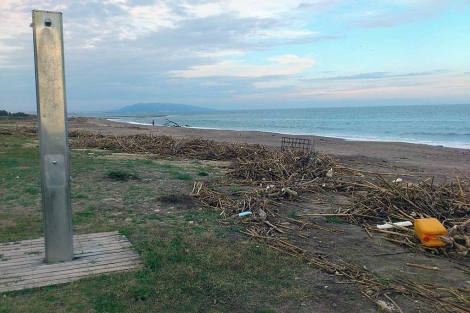 El Mundo reports that Mojacar townhall is refusing to cleanup the "hundreds of tons" of rubbish washed up on its beachs after last months flash floods.
Rosa María Cano (PP), aka ¡Rosimari!, says that its not up to the townhall to clean the beaches, and the Diputacion should do it.
The Diputacion refutes this.
Cano says that whilst she accepts its up to the townhall to keep the beaches clean, an exceptional case such as this needs to be handled by the central authorities.
She says "each lorry costs 140€. Who can say how many hundreds of lorries we need to clean all this up? It's just not feasible for us to assume the cost".
Blah, blah, usual infighting between the political parties, etc etc etc.
When we all know that what is really is going to happen is that it will all be left there until just before the beach season starts, when it will be amazingly whisked away in one night. Instead of having to pay fortwobeach cleanups.
After all, who in the pueblo cares what happens on the playa?