The fall in house prices across Spain has sped up according to the latest suvey from the government statistics body INE.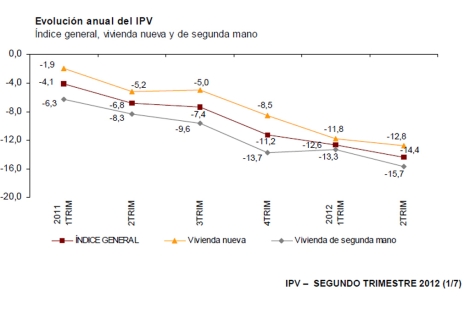 House prices in the 2nd quarter of 2012 fell by 14,4% over their price a year ago, according to government registered house prices. It's the biggest year on year fall since 2008, and comes on top of the 12,8% fall experienced in the 1ºst quarter of 2012. In fact, it doesn't matter how you total it up, house prices are falling and speeding up in their fall.
The regions with the biggest drops were: Cataluña (16,5%), Comunidad de Madrid (16%), País Vasco (15,6%), La Rioja (15,2%), Islas Baleares y Cantabria (15%), Aragón y Navarra (14,5%).
Lowest drops were Canarias y Asturias (14,3%), Comunidad Valenciana (14,2%) Castilla y León (14%), Andalucía (13,1%), Galicia (12,7%), Castilla-La Mancha (11,6%), Murcia (11,4%) y Extremadura (7,4%). But who wants to live in Extremadura? The clue's in the name, people: you have to be extremadamente duro to live there.